Ultimate Omega Junior

Double-strength EPA+DHA formula for increased 
   omega-3 benefits



High-intensity support for healthy brain, eye, 
   and nervous system function in ages 5+*



Easy-to-swallow, smaller soft gel
Ultimate Omega® Junior is one of our most popular concentrates and provides double-strength fish oil in an easy-to-swallow soft gel that's half the size of standard soft gels. And its great-tasting, all-natural strawberry flavor even makes it chewable. Just one serving (two soft gels) of Ultimate Omega Junior delivers 680 mg omega-3s, making it an excellent way to give children more omega-3s in fewer soft gels.

As with all Nordic Naturals products, Ultimate Omega Junior is in the triglyceride form for optimal absorption.* Our patented nitrogen processing ensures that Ultimate Omega Junior is absolutely pure and fresh. Fresh fish oils are better for the body, and do not create negative side effects such as repeat or burp-back.

Two soft gels daily, with food, or as directed by your health care professional or pharmacist.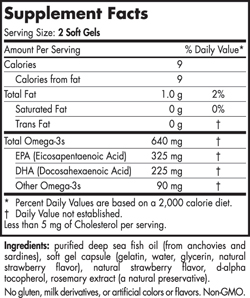 * These statements have not been evaluated by the Food and Drug Administration.
   This product is not intended to diagnose, treat, cure, or prevent any disease.