Daily Omega Kids

Doctor recommended



Provides all the omega-3s children ages 3+ need 
   to support brain and visual function— in just one soft 
   gel a day*



Kids love the 100% natural strawberry flavor 
   tastes great


Daily Omega Kids is a concentrated formula for children ages 3+. Easily swallowed or chewed, these tasty soft gels make it easy to give your child the omega-3s they need—even for those with the pickiest palates.

One soft gel daily, with food, or as directed by your health care professional or pharmacist.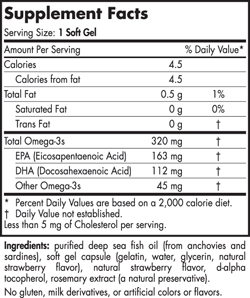 * These statements have not been evaluated by the Food and Drug Administration.
   This product is not intended to diagnose, treat, cure, or prevent any disease.